Loading...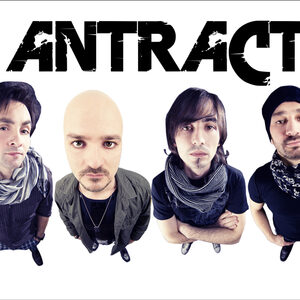 There are no performances available at the moment.
There are no Fan Reports yet written for Antract. Be the first to write a review and share your experience with others.
---
Artist description
Grupul a fost infiintat de Bobita Catusanu in 1984 si s-a numit initial Mini-Paradox, fiindca se afla sub aripa ocrotitoare a unui trupe rock, cu ceva experienta, din Rm. Valcea, Paradox. Ulterior, cand s-au dus in studiourile Radioului National sa inregistreze primele piese, s-au prezentat la..."comisie" sub numele « Zig-Zag ». Au fost sfatuiti sa-si caute un drum "mai drept", asa ca s-au intors cu un titlu nou: ANTRACT.

Componenta la primele doua albume Antract i-a numarat pe fratii Cristian si Zelu Iordan (chitara si tobe) si Robert Constantinescu (clape). Dupa L.P.-ul "Blestem" au urmat 3 ani de tacere. Prin trupa au mai trecut, avand contributii semnificative: Paul Balanca – solist vocal (1990 – 1994), Andreea Neh – voce (1985 – 1987), Daniel Nicolaescu – ch. solo (1986 – 1988). Apoi s-a produs, ceea ce Bobita numeste, "fuziunea cu Sibiul", mai clar spus, cooptarea lui Ilie "Manole" Vlad (ex-Riff) la chitara si a lui Arthur Fleischer la tobe.

Cel mai intens moment de nehotarare l-au trait odata cu piesa "Esti frumoasa..." de pe albumul "Blestem". Parerea unanima a fost ca "e o oroare", dar ei au inclus-o totusi pe disc si a devenit piesa de rezistenta. "Inainte de toate" (1999) este titlul celui de-al treilea album al grupului Antract. Cele 11 piese, se distanteaza clar din punctul de vedere al exprimarii artistice, de discurile anterioare, "Antract" (1994) si "Blestem" (1995).

La inceputul anului 2000, trupa trece printr-o schimbare de componenta : Arthur Fleischer se dedica in exclusivitate firmei de sonorizare si lumini Omnitech, fiind inlocuit la baterie de Florin "Pefi" Pop.

In 2000 apare single-ul «INIMA MEA», al carui videoclip reuseste sa ajunga pe prima pozitie in topurile de specialitate. Antract incepe anul 2001 cu un nou tobosar, Andrei Barbulescu (ex Sarmalele Reci). Si noul material se numeste "Amintiri", continand sase piese de dragoste. Cel de-al cincilea album, «Nou», editat de MediaPro Music in 2003 alaturi de Szabi Bozsoky, o noua achizitie la tobe, colaborare care insa nu a durat prea mult, acesta fiind inlocuit dupa numai o luna de zile de Cosmin Cadar. Intre timp trupa si-a intregit componenta la formula de 5 membri, luandu-l la clape pe Fernando Draganici.

In 2004 trupa Antract a implinit 20 de ani. Grupul, infiintat de Bobita Catusanu (bass) in 1984, a acumulat o bogata experienta muzicala care se materializeaza intr-o colectie ce cuprinde multe dintre hit-urile trupei. Este vorba de un album aniversar, numit "Live 20 ani" si produs de MediaPro Music. Discul exprima evolutia grupului Antract de-a lungul celor 20 de ani prin compozitii precum: "Saruta-ma", "Din prima zi", "Singur", "Taci, ma femeie!", "Esti frumoasa", "Singuratate", "Inima mea" si alte piese de rezistenta ale trupei, ca si cel mai recent hit, "Carciumareasa". Albumul "Contraste" (2006) este al 7-lea L.P. semnat Antract si al doilea in format multimedia dupa "Amintiri". CD-ul mai contine si doua videoclipuri la piesele "Ca si cum" din concertul "Antract - 20 de ani" si "Inger" primul extras pe single de pe albumul "Contraste" precum si making off-ul clipului "Inger". Include, de asemenea, si un film de scurt metraj prezentat publicului la concertul aniversar "Antract - 20 de ani" si 9 piese noi.
 In cei 25 de ani de cariera muzicala Antract a cantat pe cale mai mari scene ale rock-ului din Romania in compania unor nume grele ale rock-ului international cum ar fi : 1992 – Uriah Heep, Jetro Tull, Saxon, Paradise Lost 1998 – Ronnie Jammes Dio 1999 – Monster Magnet si Metallica 2006 – Helloween De asemenea Antract a avut o colaborare si cu actrita americana Jenny Molen protagonista din videoclipul piesei « Inger »

Concertul ANTRACT 25 a readus in memoria publicului prezent in sala imagini inedite prin prezentarea unui film de 30 de minute in care au fost prezentate cele mai importante momente ale formatiei, precum si interviuri ale unor vedete autohtone din peisajul muzical, super hit-urile trupei si multe surprize. …si povestea continua!

Antract este o adevarata borna de sunet pe autostrada rock-ului romanesc. Drept dovada sta sfertul de veac de activitate, sarbatorit printr-un concert extraordinar: ANTRACT 25.
---