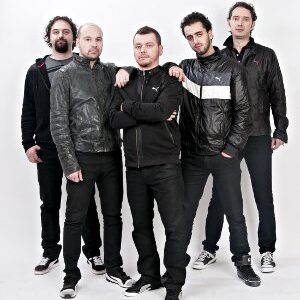 There are no performances available at the moment.
No available Fan Reports
There are no Fan Reports yet written for Bere Gratis. Be the first to write a review and share your experience with others.
Artist description
Trupa Bere Gratis a fost infiintata in 1998 de Mihai 'Mita' Georgescu (voce), Robert Anghelescu (clape) si Marius Dobre (chitara), trei baieti ce cantau la acea vreme in formatia "Ghost". Impreuna cu Mihai 'Magga' Suciu (tobe) si Marius Mirea (bass) au pus bazele unei noi formatii pe care au numit-o Bere Gratis.
Primele inregistrari au fost facute in ultima parte a anului 1998, iar piesa "Fara rusine" a aparut pe compilatia "Tu poti fi vedeta" (la A&A Records), alaturi de alti artisti in lansare: Stigma, Drepturi Egale, Zenit, Carmen Stanciu, New Entry, MBX, Profil, Harap Alb, Sens Unic, Rapsodique, Pur si Simplu.
Piesele "Cea mai frumoasa fata" si "Ce misto" sunt inregistrate in Magic Sound Studio (casa de productie "East & Art") si publicate pe primul CD single al formatiei.
In vara anului 1999, Ovidiu Halmagean (ex-Genius) devine producatorul formatiei, cu ajutorul acestuia trupa inregistrand in Studio Voices (Iasi) primul album in perioada noiembrie-decembrie 1999.
Primavara anului 2000 marcheaza semnarea primului contract de productie (cu casa de discuri Nova Music Entertainment) si aparitia pe piata a primului album, "De vanzare" (25 mai 2000).
Piesa "Ce misto", primul single de promovare al acestui album, intra ulterior in listele de heavy-rotation ale radiourilor. Urmatoarele piese promovate au fost "Ultrafete" si "Curtea scolii" (piesa aparuta in toamna anului 2000).
Pe 26 ianuarie a avut loc concertul "Electrika", primul mare eveniment dintr-o serie de concerte ce au folosit aceeasi locatie - Teatrul National din Bucuresti - devenita reprezentativa pentru spectacolele aniversare.
Pe 7 iulie, la Hollywood Multiplex Bucuresti este lansat oficial DVD-ul "Electrophonica - Live la TNB", inregistrat cu ocazia concertului aniversar de 5 ani, primul DVD surround al unei formatii romanesti.
In toamna anului 2004 este lansat "Post Restant", al patrulea album de studio al trupei, iar primul single promovat de pe acest album a fost "Eu nu am sa te las" (in luna noiembrie).