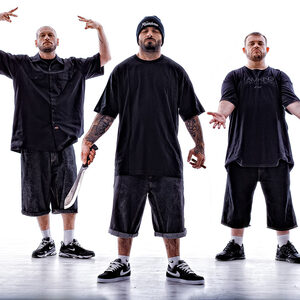 There are no performances available at the moment.
No available Fan Reports
There are no Fan Reports yet written for B.U.G Mafia. Be the first to write a review and share your experience with others.
Artist description
Dupa vara ce a urmat debutului nostru din aprilie 1994 de la Uniplus, am inceput sa lucram la piese pentru un prim album si am reusit sa avem si o prima aparitie live in Club A din Bucuresti
"Mafia" a fost o nebunie de album. Primul proiect gangsta rap din Romania, in ciuda distributiei inexistente, s-a propagat din Bucuresti catre marile orase ale tarii prin "sharing".
Daca "Mafia" a fost un album care a atras interes pentru B.U.G. Mafia din partea ascultatorilor de hip-hop si rock, "inc-o Zi, inc-o Poveste" cu single-ul "Pantelimonu' Petrece" a fost solutia perfecta pentru a ajunge in atentia marelui public. Cu toate ca se spune ca norocul ti-l faci singur, am avut mult noroc de-a lungul timpului si vara anului 1996 a fost una din acele coincidente norocoase.
"Nascut si Crescut in Pantelimon" si "Pana Cand Moartea Ne Va Desparti", piesele alese pentru a promova al treilea album, au dovedit publicului roman ca nu eram doar o trupa de moment si ca in cazul nostru chiar exista un potential serios.
"Viata Noastra", albumul aniversar despre care am vorbit foarte mult inca din anul 2000, s-a dovedit a fi cea mai grea incercare prin care am trecut de cand am inceput. A fost ca si cum am fi fost o familie cu 30 de copii care vrea sa-i faca pe toti doctori.
In 2010, odata cu "Supranatural" am inceput sa punctam directia in care vom merge in viitor.