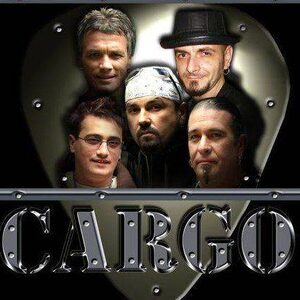 There are no performances available at the moment.
No available Fan Reports
There are no Fan Reports yet written for Cargo. Be the first to write a review and share your experience with others.
Artist description
Trupa ia fiinta la Timisoara in 1985, in formula: Carol Bleich (baterie), Octavian Iepan (chitara), Tibi Gajdo (chitara bass), Dinel Tollea (clape), Nae Ionel Tarnotzi (voce) si Adrian Barar (chitara).
Sustin un turneu pe litoral in anul 1989, unde compun cateva piese, apoi in 1990 in Iugoslavia si Franta, unde inregistreaza, alaturi de Raul Dudnic la bass si Adrian Popescu la chitara-armonie, o mare parte din materialul muzical ce urma sa devina primul lor disc.
Primul album semnat Cargo este lansat in anul 1992. "Povestiri din gara" contine 9 piese, din care una instrumentala. Cargo il coopteaza pe Ramon Radosav la vioara si il pierd pe Dinel Tollea (care se stabileste in Elvetia), in locul caruia vine Cristian Pup.
In luna mai a anului 1995 a aparut al doilea album Cargo, editat si pe CD, denumit "Destin". Ghinionul a lovit din nou trupa; la putin timp dupa lansarea albumului, Kempes are un accident de motocicleta, in care este ranit grav.
A urmat apoi un extraordinar concert in semn de solidaritate ce a avut loc la Sala Polivalenta in care alaturi de Cargo au cantat Mircea Nedelcu, Berti Barbera, Vali Sterian, Iris, Weinberger si altii. Dupa acest concert, Adrian Igrisan (ex-RIFF, poreclit "Baciul") a ramas la Cargo si a ocupat locul de chitarist-armonie, cantand si vocal.
In anul 2005 obtin inca o data premiul pentru cea mai buna trupa rock la MTV Romanian Music Awards. Tot in acelasi an primesc Discul de Aur pentru vanzarile albumului "Spiritus Sanctus".