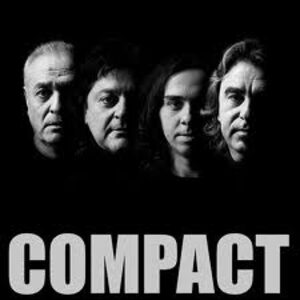 There are no performances available at the moment.
No available Fan Reports
There are no Fan Reports yet written for Compact. Be the first to write a review and share your experience with others.
Artist description
Trupa Compact a luat fiinta in 1977, la Cluj, insa a intrat in atentia publicului abia in 1981, an in care si-a gasit identitatea muzicala datorita cooptarii lui Paul Ciuci - solist, chitarist si compozitor. A fost un inceput de drum, compozitiile lui Paul Ciuci s-au facut remarcate rapid datorita stilului si timbrului aparte, iar in scurt timp, Compact a devenit una dintre cele mai cunoscute si iubite formatii rock din Romania .
Primele piese ale trupei au fost inregistrate in 1982, acestea aparand pe albumul "Formatii Rock 6". Tot in 1982, Compact participa la Festivalul Rock "Serbarile Marii", unde obtine Premiul I, iar Paul Ciuci este desemnat cel mai bun solist vocal al unei formatii rock.
   In 1983 este lansat primul mare succes al formatiei, "Fata din vis", care aduce notorietatea acesteia. Doi ani mai tarziu, "Fata din vis" - melodie care va deveni ulterior hitul multor generatii - apare pe primul album propriu al trupei, caruia ii da si titlul.
In prezent, formatia pregateste un nou turneu national de amploare si lucreaza la un nou album. La inceputul anului, Compact a lansat, intr-o noua versiune, piesa "Esti totul pentru mine", extrem de bine primita de public.