Loading...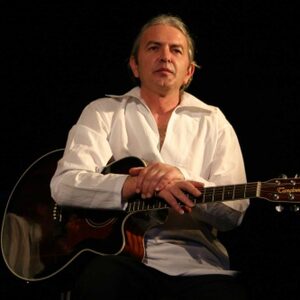 There are no performances available at the moment.
There are no Fan Reports yet written for Ducu Bertzi . Be the first to write a review and share your experience with others.
---
Artist description
In paralel cu scoala generala, a studiat opt ani chitara la scoala de muzica din Sighet. Din clasa a noua, impreuna cu un grup de prieteni, a infiintat grupul Mi bemol rock. Cu aceasta formatie, Ducu Bertzi canta, la serile de dans ale liceului, piese romanesti si din repertoriul unor formatii la moda. Treptat, a renuntat la chitara electrica in favoarea celei acustice, cauza fiind de natura tehnica (lipsa unor statii de amplificare si a instrumentelor de calitate).

Existenta unui cenaclu literar din localitate l-a atras, Bertzi descoperind aici muzica poeziei. La primul festival de poezie si muzica de la Sighet (1973), Bertzi a castigat marele premiu... o valiza. Debutul pe o scena recunoscuta a avut loc in 1976 la Baia Mare, in cadrul manifestarilor organizate de Cenaclul Flacara, unde a activat pana in 1985.

Pana la sfarsitul anului, Ducu Bertzi participa saptamanal la manifestarile folk organizate in stagiunea de spectacole a Casei Studentilor. Paralel cu genul care l-a consacrat, a devenit in scurt timp membru permanent al grupului Coral SONG, sub bagheta regretatului Ioan Luchian Mihalea. Activitatea concertistica a acestei formatii corale i-a oferit lui Bertzi posibilitatea de a fi remarcat atat in calitate de membru al corului, cat si ca solist de muzica folk. Prima inregistrare audio a fost realizata la Radiodifuziunea Romana in noiembrie 1979, cu titlul Cand s-o-mpartit norocu'. Au urmat alte imprimari si aproximativ 1200 de spectacole.

Dupa o perioada in care muzica folk a intrat intr-un con de umbra, in 1986, Ducu Bertzi a continuat sa inregistreze noi piese, dintre care cele mai cunoscute s-au transformat in slagare: Si de-ar fi; Floare de colt; M-am indragostit numai de ea; Suflet fara chei; Omul padurii. A fost invitat in studiourile Televiziunii Romane pentru filmarea acestora.


---