ENGELBERT HUMPERDINCK
- Tickets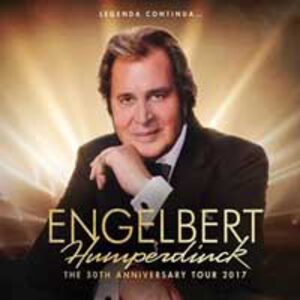 There are no performances available at the moment.
No available Fan Reports
There are no Fan Reports yet written for ENGELBERT HUMPERDINCK. Be the first to write a review and share your experience with others.
Artist description
Una dintre cele mai bune voci din lume,
 ENGELBERT HUMPERDINCK, revine in Romania intr-un concert aniversar
Engelbert Humperdinck - supranumit  ''Regele Romantelor''- revine in Romania in cadrul turneului mondial '' A 50-a Aniversare''. 
Engelbert Humperdinck, pe numele sau real Arnold George Dorsey s-a născut la 2 mai 1936, în Tamil Nadu, Madras, India. Numele lui de scenă a fost inspirat de numele compozitorului german cunoscut pentru opera ''Hansel si Gretel''. A inceput sa studieze muzica la varsta de 7 ani, dar abia zece ani mai tarziu avea sa-si incerce talentul vocal, cand un grup de prieteni l-a provocat sa participle la un concurs de tinere talente organizat de un pub. Abia la 31 de ani, Engelbert Humperdinck a cunoscut cu adevarat succesul, cand a lansat melodia ''Release me'', cu care a si intrat in Cartea Recordurilor fiind piesa care s-a clasat de cele mai multe ori pe locul I in topul celor mai prestigioase radiou-uri din lume. Numai in Marea Britanie, single-ul 'Release me'' a stat pe locul I timp de 56 de saptamani si a vandut peste un million de copii.
De-a lungul timpului, Engelbert Humperdinck a primit 63 discuri aur și 35 de platină, precum și patru nominalizări la premiile Grammy. Artistul a lansat peste 50 de albume și peste 40 de single-uri, ''Am I That Easy to Forget ?'', ''Please Release Me'', ''The Last Waltz'', ''There Goes My Everything'', ''After the Lovin''', ''(As long as I can) Dream with You'', ''I Wanna Rock You in My Wildest Dreams'', ''Red Roses for My Lady'', ''Hand in Hand'' sunt doar cateva dintre melodiile celebre care au incantat fanii artistului decenii intregi.
Din discografia sa fac parte albumele ''Release Me'' (1966), ''A Man Without Love'' (1968), ''Engelbert'' (1969), ''Engelbert Humperdinck'' (1969), ''We Made It Happen'' (1970), ''Sweetheart'' (1971), ''Another Time, Another Place'' (1971), ''Live At The Riviera Las Vegas'' (1972), ''In Time'' (1972), ''My Love'' (1973), ''Miracles'' (1977), ''Time For Us'' (1977), ''The Last Of The Romantics'' (1978), ''Love Letters'' (1978), ''This Moment In Time'' (1979), ''Love's Only Love'' (1980), ''Don't You Love Me Anymore ?'' (1981), ''Loving You Losing You'' (1982), ''Misty Blue'' (1982), ''You And Your Lover'' (1983), ''Getting Sentimental'' (1985), ''Remember I Love You'' (1987), ''Love Is The Reason'' (1988), ''In Love'' (1989), ''Red Roses For My Lady'' (1989), ''Step Into My Life'' (1990), ''Love Has Been A Friend Of Mine'' (1993), ''Yours'' (1993), ''I Love You'' (1994), ''Step Into My Life'' (1994), ''You Are So Beautiful'' (1995), ''From The Heart'' (1996), ''It's All In The Game'' (2001), ''I Want To Wake Up With You'' (2001), ''You Belong To My Heart'' (2002), ''Let There Be Love'' (2005), ''The Winding Road'' (2007).
Albumele artistului s-au vândut în peste 150 de milioane de exemplare, iar melodiile artistului continua sa fie ascultate cu placere de milioane de fani peste tot in lume, in cele peste 100 de concerte pe care artistul le sustine in fiecare an.