Loading...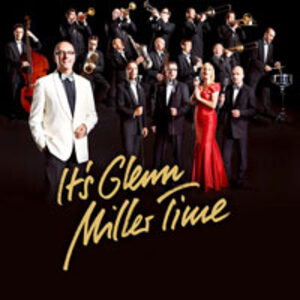 There are no performances available at the moment.
There are no Fan Reports yet written for Glenn Miller. Be the first to write a review and share your experience with others.
---
Artist description
"It's Glenn Miller Time!", indemnul la care toti iubitorii de muzica veche ar trebui sa raspunda prezent! Un spectacol ce fara indoiala defineste viata si cultura americana din perioada anilor '30-'40, un concert ce aduna mult prea celebrele piese Sweet & Swing compuse de legendarul GLENN MILLER.
Orchestra celebra cu muzicienii din Big Band, sub bagheta dirijorului Wil Salden, va prezenta un eveniment sweet & swing absolut complesitor, ce va bucura toate categoriile de varste!
Momentul special al concertului va avea in centrul atentiei astrul mult prea visat, cantat si recitat, LUNA: "Moonlight Serenades" & "Blue Moon".
Inconfundabilele "In the Mood", "Pennsylvania 6-5000", "String of Pearls", "Chattanooga Choo Choo", "At Last" sunt doar alte cateva dintre evergreen-urile ce vor fi cantate live de orchestra GLENN MILLER.
Chiar si astazi, dupa mai mult de 75 de ani de la fondarea Glenn Miller Orchestra, universul muzical este inca imbogatit de aceste memorabile piese si aranjamente orchestrale. Asa cum Coca-Cola si Elvis Presley apartin culturii americane si implicit culturii mondiale, asa si muzica lui Glenn Miller este recunoscuta peste tot in lume, este un brand incontestabil!
https://www.youtube.com/watch?v=58inMDCcWkg
DESPRE GLENN MILLER
Glenn Miller a fost cel mai bine vandut artist in perioada 1939-1943. Cu o reputatie al unui personaj destul de complicat si unul dintre cei mai talentati oameni de afaceri care a condus vreodata o orchestră de jazz, Glenn Miller este considerat si astazi unul dintre principalii artisti-cult din industria muzicala a tuturor timpurilor.
Printre cele mai cunoscute compozitii ale sale se numara "In the Mood", "Moonlight Serenade", "Pennsylvania 6-5000", "Chattanooga Choo Choo", "A String of Pearls", "At Last", "(I've Got a Gal In) Kalamazoo", "American Patrol", "Tuxedo Junction", "Elmer's Tune" si "Little Brown Jug".
Alton Glenn Miller s-a nascut pe 1 martie 1904 in Clarinda, un orasel din Iowa, Statele Unite ale Americii. Dupa o perioada de cautari, parintii lui s-au stabilit in Tryon, Nebrasca, pe un teren concesionat de stat. Mama lui Glenn Miller canta la orga si usor, usor a pus bazele scolii locale. In 1915 familia Miller s-a transferat la Grant City, Missouri, unde Glenn a urmat scoala primara. Primul sau job a fost ca lustragiu in magazinul de incaltaminte al directorului orchestrei locale, John Mosbarger, primind si primul trombon. In 1922 a intrat in Holly Moyer Orchestra fiind si un avantaj financiar destul de consistent pentru a-si plati studiile la Universitatea din Colorado. Dupa ce a picat mai multe examene intr-un timp destul de scurt, Glenn Miller a renuntat la universitate. Avea alte preocupari, cele artistice fiind primordiale in viata lui Glenn Miller.
Primul lui contract a fost ca trombonist si aranjor muzical al orchestrei Tommy Watkins. Nemultumit de felul cu evolua din punct de vedere muzical, s-a mutat in Los Angeles unde a obtinut un post in orchestra lui Ben Pollack, un baterist experimentat si cu fler în descoperirea de noi talente. In anul 1928 Glenn s-a mutat la New York, unde a continuat sa lucreze cu Pollack. Rapid a inceput să cante la trombon si sa scrie aranjamentele pentru Red Nichols si Paul Ash. Miller a inceput să inregistreze cu numele sau in 1935, insa nu cu o trupa oficiala.
Formata in martie 1938, Glenn Miller Orchestra a inceput curand sa aiba succes rasunator pe Coasta de Est. In 1939, Miller a semnat un contract pentru un program care se transmitea in direct la radio, dandu-i posibilitatea sa atraga atentia ascultătorilor intr-un mod greu de imaginat in zilele noastre.
Chattanooga Choo-Choo a fost primul single care a primit certificare din partea RIAA (Recording Industry Association Of America) pentru ca a vandut peste un milion de exemplare si a obtinut oficial un disc de aur.
Muzica lui era axata pe aranjamente destul de clare, simpliste, ca sonoritatile sa fie cat mai atragatoare pentru dansatori, folosind destul de frecvent un clarinet acordat cu o octavă peste cele trei saxofoane tenor.
Succesul maret s-a datorat in primul rand firii sale intuitive. Stia care este dorinţa publicului, pe aceasta cale obtinand transmisiuni la radio, plus un succes comercial urias si vanzari record. "Da publicului ce isi doreste si va alerga spre tine", spunea Miller adesea.  Succesul acestuia ca bandleader a durat o perioada scurta, anume ceva mai mult de trei ani înainte de moartea lui fulgerătoare la varsta de patruzeci de ani, lasand pasionatilor de jazz un prim exemplu de big band si pentru aranjamentele sale muzicale care domina pana astazi.
Glenn Miller moare la varsta de 40 de ani, undeva pe data de 15 decembrie 1944, cand avionul pe care-l pilota a disparut deasupra Canalului Manecii.
The Glenn Miller Story", drama biografica din 1954 care spune povestea cunoscutului muzician american, s-a bucurat de un mare succes si a fost nominalizat la trei premii Oscar. A castigat la categoria cel mai bun mixaj sonor, iar Coloana sonoră a ajuns pe locul intai in topul Billboard. "Povestea lui Glenn Miller" a mai fost nominalizată la premiile BAFTA (cel mai bun actor străin), Directors Guild of America, New York Film Critics Awards si Writers Guild of America.
---