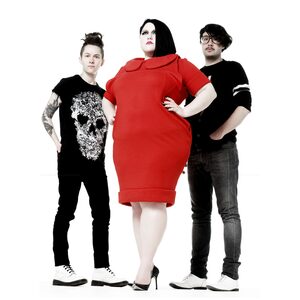 There are no performances available at the moment.
Get notified when we have tickets available
Receive news about artist as soon as we do, directly to your e-mail.
No available Fan Reports
There are no Fan Reports yet written for Gossip. Be the first to write a review and share your experience with others.
Artist description
Gossip is a three-piece American indie rock band formed in 1999 in Olympia, Washington. The band consists of singer Beth Ditto, guitarist Brace Paine and drummer Hannah Blilie. After releasing several recordings, the band broke through with their 2006 studio album, Standing in the Way of Control (2006). A follow-up, Music for Men, was released in 2009. The band plays a mix of post punk revival, indie rock, and dance rock. Their latest album, A Joyful Noise, was released in May 2012.