Loading...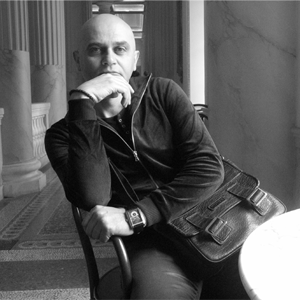 There are no performances available at the moment.
There are no Fan Reports yet written for Ion Rizea. Be the first to write a review and share your experience with others.
---
Artist description
ION RIZEA
Absolvent al Liceului de Chimie "Azur", olimpic la chimie, Ion Rizea a rasturnat toate pronosticurile privind o cariera in domeniu, urmandu-si adevarata vocatie: teatrul. Astfel, in anul 2000 isi ia licenta in actorie la sectia de teatru a Facultatii de Muzica din cadrul Universitatii de Vest Timisoara. Colaboreaza intens cu Teatrul National inca din perioada studentiei, fiind distribuit in doar trei ani in circa zece spectacole: Cersetorul de R. J. Sorge, Panorama minunatiilor dupa Cervantes, Ubu Rege de Alfred Jarry, Femeia in rosu dupa M. Nedelciu, Adriana Babeti si M. Mihaies, Cum va place de W. Shakespeare etc. In aceeasi perioada participa la un important proiect teatral romano-maghiar cu spectacolul Visul unei nopti de vara de W. Shakespeare.
In urma absolvirii studiilor, Ion Rizea este angajat in trupa Nationalului timisorean, fiind, de atunci, o prezenta importanta a Teatrului National. Joaca, gratie amplitudinii interpretative, talentului si magnetismului sau, cele mai diverse roluri, ofera publicului peste 50 de personaje in spectacole ca Viata e vis dupa Calderón de la Barca, Gaitele de Alexandru Kiritescu, Copenhaga de Michael Frayn, The Full Monty de Terrence McNally si David Yazbek, O scrisoare pierduta de I.L. Caragiale, Iulius Caesar dupa W. Shakespeare, Romeo si Julieta de W. Shakespeare, Piata Roosevelt de Dea Loher, Remember dupa Mateiu I. Caragiale, Trei surori de A.P. Cehov, Boala familiei M de Fausto Paravidino, edward dupa Christopher Marlowe, Autobahn de Neil LaBute, Medeea de Euripide si multe altele. De asemenea, Ion Rizea este autorul piesei Destainuirile lui Jacques Brel, intrata in repertoriul Nationalului ca premiera absoluta.
Din anul 2006, Ion Rizea isi asuma un rol cu totul diferit de cel al actorului. In calitate de director general adjunct, coordoneaza, alaturi de Ada Hausvater, managerul Teatrului National, cele mai importante proiecte ale institutiei, atat in plan artistic, cat si administrativ. Numele sau este indisolubil legat de programul de recuperare pentru cultura a unor cladiri istorice care a dus la realizarea celei mai moderne sali de teatru din Romania - Sala 2, respectiv Sinagoga din cartierul Fabric, proiect in lucru care va avea ca finalitate un nou spatiu dedicat spectacolului si cercetarii artelor spectacolului; totodata, Ion Rizea a avut un rol esential in realizarea Atelierelor Teatrului National , "Fabrica de Decoruri", prima linie de productie profesionala de decoruri de teatru din Romania.
Cu o cariera care il recomanda ca fiind unul dintre cei mai importanti actori romani ai generatiei sale, Ion Rizea reprezinta deja o prezenta solida in istoria culturala contemporana a Timisoarei.
---