Loading...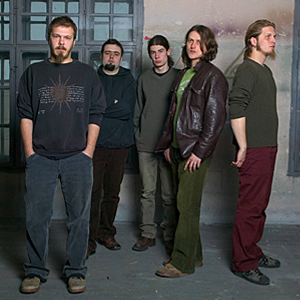 There are no performances available at the moment.
There are no Fan Reports yet written for Luna Amara. Be the first to write a review and share your experience with others.
---
Artist description
LUNA AMARA este cea mai complexa si mai controversata aparitie muzicala a scenei rock romanesti din anii 2000 incoace. Cenzurata din cauza opiniilor politice transante, cu un clip pe tv atunci cand inca nu exista un album, prezenta la toate festivalurile importante, o noutate absoluta prin integrarea sunetului de trompeta intr-un sound alternative, LUNA AMARA si-a format un public al sau, un public care vrea sa inteleaga mai mult, care vrea sa se implice mai mult.

Formatia a inceput in 1999, insa deabia in 2004 apare albumul de debut Asfalt (Rebel Music/ Roton). In acelasi an trupa apare pe prima pagina a mai multor cotidiene nationale, datorita unor probleme de cenzura ivite la Cluj, Bacau si Alba-Iulia, dar si datorita unei interpretari pline de semnificatii politice la Stufstock Vama Veche, in direct la TVR1.

De la debutul discografic si pana in prezent, LUNA AMARA a cantat in deschiderea formatiilor Faith No More, HIM, Apocalyptica, Amorphis, Paradise Lost, Clawfinger, Toy Dolls, construindu-si experienta necesara abordarii unor astfel de concerte. Si-a facut debutul international la festivalul de la Sziget, in 2005. A cantat in Germania, Olanda, Franta, Ungaria, Bulgaria, Turcia si Republica Moldova. Al doilea album, Loc Lipsa (Roton/ R.U.L.), a beneficiat de cel mai lung turneu de cluburi din istoria rock-ului romanesc, cu peste 35 de date pe parcursul a doar trei luni. In tot acest timp, LUNA AMARA s-a implicat activ in campania "Salvati Rosia Montana!", cei doi solisti au gasit timp sa scrie si poezie iar Mihnea chiar sa publice doua carti, "No Future" si "Mania.Ro". In 2007 si 2008, LUNA AMARA a sustinut peste 50 de concerte, a cantat pe scenele marilor festivaluri romanesti de gen (Stufstock, FanFest, Peninsula, Coke Live, etc.) si a fost invitata pentru a doua oara la Sziget.

In 2009, formatia a lansat un nou album, Don't let your dreams fall asleep, sustinut de un turneu de promovare in 18 orase.

In 2010, dupa o prima jumatate de an plina de concerte, LUNA AMARA are onoarea de a deschide ultima zi a Sonisphere/Tuborg Green Fest Romania, urcand pe aceeasi scena cu Anathema, Stone Sour, Alice In Chains si Rammstein.
Pe 2 octombrie 2010, LUNA AMARA a deschis concertul Ozzy Osbourne de la Bucuresti, concert care a marcat inceputul unui turneu aniversar de 10 ani, cu 18 date.

In 2011, formatia a intrat in studio si a inregistrat un nou album. In luna august, a urcat pe aceeasi scena cu Deftones, in cadrul Alternative Summer Day, dar si cu Iggy Pop, la festivalul Peninsula. Albumul a fost lansat in 13 octombrie, se numeste "Pietre In Alb" si LUNA AMARA se afla in plin turneu de promovare a albumului.
---