Miles Davis Kind of Blue
- Tickets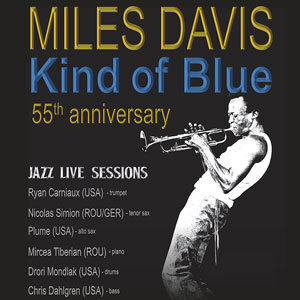 There are no performances available at the moment.
No available Fan Reports
There are no Fan Reports yet written for Miles Davis Kind of Blue. Be the first to write a review and share your experience with others.
Artist description
CEL MAI BINE VANDUT ALBUM DE JAZZ AL TUTUROR TIMPURILOR
SE ASCULTA LA CLUJ
Cu ocazia implinirii a 55 de ani de la inregistrarea si lansarea albumului "Kind of blue", sase instrumentisti de exceptie, dintre care patru americani (trompetistul Ryan Carniaux, saxofonistul Plume, contrabass-istul Chris Dahlgren, bateristul Drori Mondlak) si doi romani (pianistul Mircea Tiberian si saxofonistul Nicolas Simion) vor performa pe 9 octombrie la Sala Radio din Bucuresti si la Casei de Cultura a Studentilor, marti, 14 octombrie,

MILES DAVIS (26.05.1926 – 28.09.1991), muzicianul nepereche, este unul dintre cele mai rasunatoare nume din arta jazz-ului. Artistul a avut o contributie mai mult decat insemnata la afirmarea jazz-ului modern din a doua jumatate a secolului trecut, fiind recunoscut pentru usurinta cu care imbina stilurile: practicant al compartimentului hard bop, inventator al jazz-ului cool, sef de scoala in impunerea conceptului modal jazz si a fuziunii jazz rock.
Albumul "KIND OF BLUE" a fost lansat in data de 17 august 1959 si cuprinde cinci piese, toate fiind compozitiile lui Miles Davis (trompetist, compozitor, sef de formatie): "So what", "Freddy Freeloader", "Blue in Green", "All blues" si "Flamenco Sketches". Albumul a fost considerat o capodopera a genului, evaluat ca definitoriu pentru discografia lui Miles Davis si considerat drept cel mai bine vandut album de jazz din toate timpurile: "este aidoma Bibliei, el trebuie sa se afle in casa oricarui meloman" (afirmatia unui rapper).
"So what"  - http://www.youtube.com/watch?v=DEC8nqT6Rrk
"Blue in green"  -  http://www.youtube.com/watch?v=PoPL7BExSQU