Loading...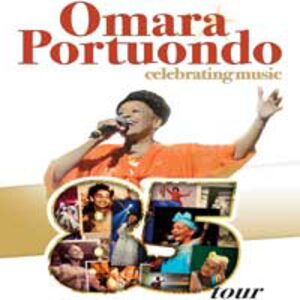 Omara Portuondo
- Tickets
There are no performances available at the moment.
There are no Fan Reports yet written for Omara Portuondo. Be the first to write a review and share your experience with others.
---
Artist description
MARA PORTUONDO, vocea legendara a BUENA VISTA SOCIAL CLUB,
celebreaza 70 de ani de activitate artistica cu doua concerte in Romania 
23 aprilie 2017, Sala Sporturilor BRASOV, ora 19:00
25 aprilie 2017, Sala Palatului BUCURESTI, ora 20:00
OMARA PORTUONDO, marea voce feminina a faimoasei orchestre BUENA VISTA SOCIAL CLUB, revine in luna aprilie in tara noastra in cadrul turneului mondial aniversar "85 Tour" pentru a le oferi iubitorilor de ritmuri cubaneze si parfum de havana, doua concerte fascinante. Salsa, mambo, rumba si cha cha cha sunt numai cateva dintre ritmurile care vor rasuna in concertele programate pe 23 aprilie, la Sala Sporturilor din Brasov, de la ora 19:00 si pe 25 aprilie, la Sala Palatului, incepand cu ora 20:00.
Atmosfera fermecatoare, plina de nostalgie, de pe strazile vechi din Havana, va fi readusa la viata prin interpretarile inconfundabile ale melodiilor sale de succes, pornind de la cantecele lansate in urma cu 50 ani – de la muzica eleganta de cabaret, pana la muzica din perioada petrecuta alaturi de Buena Vista Social Club si ajungand pana in prezent. Impartind scena alaturi de invitati surpriza dar si de membrii trupei sale, Omara Portuondo va transforma cele doua seri de la Brasov si Bucuresti in adevarate fieste, creand amintiri unice, purtate in inimile spectatorilor pentru tot restul vietii.
Admiratorii artistei din Romania care nu doresc sa rateze ocazia de a o asculta LIVE pe Omara Portuondo isi pot procura bilete la preturi ce variaza in functie locatie si de categoriile de loc.
Omara Portuondo canta fara incetare de la varsta de 15 ani, o cantareata legendara a carei voce reflecta o viata lunga, plina de creativitate, pasiune si talent innascut pentru muzica. Se afla pe scena de 70 de ani, iar in timp ce revolutii si razboaie au cutremurat globul, Omara Portuondo a continuat sa cucereasca lumea cu vocea sa calda si cu charm-ul de neegalat.
Este cel mai bine vandut artist din Cuba si ambasador artistic al tarii sale. Pe 5 noiembrie 2009, in cadrul celei de-a 10-a editii a Latin GRAMMY Awards, Omara Portuondo a primit Premiul Grammy la categoria Best Contemporary Tropical Album pentru albumul "Gracias". De-a lungul carierei, Omara Portuondo a fost nominalizata de 4 ori la Premiile Latin GRAMMY; a primit distincția "Prémio Música Brasileira" in cadrul Galei "Brazilian Music Awards" din 2008; de asemenea, este detinatoarea unui Billboard Latin Music Award (la Gala din 2005).
Turneul mondial "85 Tour" a demarat in 2016 si a avut concerte sold-out in America de Nord, America Latina si in Europa. La cei 86 de ani, activitatea artistica a Omarei Portuondo se afla intr-o permanenta ascensiune, bucurandu-se de fiecare data de concertele sold-out, de aprecierile si de ovatiile indelungi ale spectatorilor. Fiul sau, Ariel, o insoteste peste tot in lume, in calitate de producator.
Nu are dorinte imposibile sau costisitoare si nu se grabeste cu nimic. Intr-un interviu recent, Omara Portuondo marturisea: "Nu-mi pun mai multe dorinte in acelasi timp, ca sa fiu sigura ca mi le voi putea indeplini. Pe rand. Nu ma grabesc. Sunt inca tanara. Si chiar daca poate chipul meu nu mai arata atat de tanar ca odinioara, sufletul meu e mereu in floarea varstei."
De-a lungul timpului, Omara a fost supranumita "Edith Piaf a Cubei" sau "Papusa de ciocolata". Iubeste Cuba. Iubeste La Havana. Crede in ceea ce canta si are numeroase cantece superbe despre tara sa si despre frumusetile ei, pe care le-a facut cunoscute in intreaga lume. Nu ar fi putut sa cante cu atata dragoste "Soy cubana" daca ar fi ales sa traiasca in alta tara.
---