PARINTI TERIBILI
- Tickets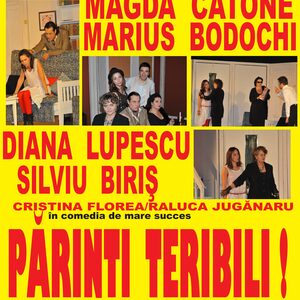 There are no performances available at the moment.
No available Fan Reports
There are no Fan Reports yet written for PARINTI TERIBILI. Be the first to write a review and share your experience with others.
Artist description
PARINTI TERIBILI
de Jean Cocteau
Regia : Diana Lupescu
Distributia: Diana Lupescu, Magda Catone, Marius Bodochi, Silviu Biris, Raluca Juganaru
    Există scrieri excepţionale ale secolului al XX-lea, piese scrise impecabil, care conţin o poveste cu conflict puternic, piese care s-au jucat, cu deosebit succes, în toată lumea.
      Unul dintre asemenea texte, "Părinţii teribili"  de Jean Cocteau, tocmai a fost montat de către Diana Lupescu. Actori din linia intai dau viaţă unei poveşti tulburătoare, despre viaţă şi moarte, despre legătura dintre părinţi şi copii (o relaţie la limita patologicului), într-un spectacol în care râsu'-plânsu' e mereu prezent. Comicul şi tragicul sunt atât de bine întreţăsute, încât hohotele publicului se transformă în fior de emoţie, aproape de lacrimă. Este povestea unui tată, care se simte singur acasă, între soţie cumnată şi fiu şi caută scăpare în braţele unei tinere deosebit de frumoasă. Este şi povestea unei mame, care îşi trădează soţul apropiindu-se periculos de mult de fiu, pe care nu vrea să-l scape din mână. Este şi povestea fiului, care doreşte să fugă din braţele mamei, şi se refugiază în braţele unei tinere – întâmplător, iubita (neştiută) a tatălui. 
      Cum se sfârşeşte o asemenea dramă picurată cu haz veţi putea afla doar văzând spectacolul.