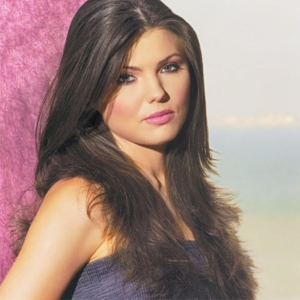 There are no performances available at the moment.
No available Fan Reports
There are no Fan Reports yet written for Paula Seling. Be the first to write a review and share your experience with others.
Artist description
Paula Seling (n. 25 decembrie 1978, Baia Mare) este o cunoscuta artista interpreta, personalitate TV, compozitoare,fosta realizatoare de emisiuni radio, si jurata in cadrul competitiei muzicale internationale X Factor, sezonul 1.

A absolvit Colegiul "Gheorghe Sincai" din Baia Mare in 1997 si Scoala Superioara de Jurnalistica din Bucuresti. A studiat canto si pian.

A cantat alaturi de Al Bano, Anita Doth (solista trupei 2 Unlimited), Tony Hawks si in deschiderea concertelor extraordinare sustinute in Romania de Joan Baez (27 iunie 1997), Chick Corea (9 noiembrie 1998), Michael Bolton (7 iulie 2007), Beyonce (26 octombrie 2007). A colaborat cu realizatoarea de video clipuri Andreea Paduraru obtinand pentru una din aceste colaborari si un premiu (impreuna cu regizoarea) in anul 2003 pe MTV. Casatorita 2005, Seling si-a deschis propria casa de productie Unicorn Records, impreuna cu fratele sau, Paul Seling si cu sotul sau.

Pe 10 iulie 2009 lanseaza videoclipul single-ului Believe de pe albumul cu acelasi nume, album ce avusese lansarea cu o luna inainte, adica pe 10 iunie, la Silver Church.
Pe 6 martie 2010, impreuna cu partenerul ei de scena Ovidiu Cernauteanu, se califica in finala Eurovision de la Oslo cu piesa Playing With Fire. Ei au spus ca spera sa fie intre primii 10 la Oslo.

In 29 mai 2010, impreuna cu partenerul ei de scena Ovidiu Cernauteanu obtine locul 3 in finala de la Eurovision 2010 la Oslo.

In anul 2011, accepta invitatia Walt Disney Romania, pentru a-si imprumuta pentru prima oara vocea intr-un film animat, aceasta fiind Holley Viteza in filmul Masini 2 (Cars 2), in original vocea apartinandu-i lui Emily Mortimer.