Loading...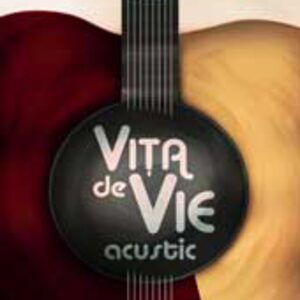 There are no performances available at the moment.
There are no Fan Reports yet written for Vita de Vie. Be the first to write a review and share your experience with others.
---
Artist description
Vita de Vie este o formatie de rock alternativ (ocazional influente rap, hardcore, jazz, si reggae) din Romania formata in 1996. Primul lor album, "Rahova", a fost realizat in 1997. Ultimul album numit 'Acustic' a fost lansat pe 5 aprilie 2013.

Infiintata in 1996, formatia inregistreaza primul demo in studioul lui Adrian Ordean, ocazie cu care grupul a fost botezat "Vita de Vie" de catre acesta. In 1997 este lansat albumul de debut, "Rahova", sub egida casei de discuri Zone Records. In 1998 formatia, aflata inca la inceput de drum, ia parte la Turneul Hollywood Rock Tour alaturi de deja consacratele Holograf si Timpuri Noi.

In 1999 Vita de Vie da marea lovitura pe piata muzicala romaneasca prin lansarea albumului "Fenomental", pe caseta audio si al videoclipului piesei "Basul si cu toba mare". Albumul este reeditat un an mai tarziu in format CD, continand si videoclipul. Tot in 2000 este lansat videoclipul "Vino la mine", iar Vita de Vie primeste premiul Otto pentru cea mai buna formatie, acordat de revista Bravo. Impreuna cu Timpuri Noi este lansat albumul "Lucky Nights Live".

Albumul "Exxtra" este lansat in 2001, alaturi de videoclipurile "Sunetul mai tare" si "Liber". Albumul cuprinde colaborari cu Suie Paparude (pentru piesa "Zboara"), Parazitii (pentru "Beat mort"), Ganja si K-Gula (pentru "O noapte"). Piesele au influente rap, in special la nivelul limbajului, pe coperta CD-ului fiind scris avertismentul «ATENTIE - Contine cuvinte tari».

In 2002 formatia primeste premiul UPFR pentru «Cel mai bun album alternativ», respectiv albumul "Exxtra". Este lansat albumul "Doi" si videoclipul "Visare", iar in 2003 apar videoclipurile "Varza" si "Totata". In 2004 formatia lanseaza albumul "9704" cuprinzand cele mai bune piese de pe primele 4 albume si o piesa noua intitulata "Imi pasa", pentru care inregistreaza si un videoclip. Vita de Vie primeste premiul «MTV Best Live», performanta repetata si un an mai tarziu, in 2005.

In august 2005 trupa a concertat pro bono (gratuit) la festivalul FanFest, Rosia Montana in cadrul campaniei "Salvati Rosia Montana"[1][2].
Vita de Vie se implica in campania sociala "Deschide-ti inima" impotriva discriminarii persoanelor afectate de virusul HIV, in 2006, iar in 2007 are loc lansarea albumului "Egon" si campania "Imi pasa" pentru Asociatia UpDown. Este infiintata casa de discuri VdV Music.
Ultimul album, "Fetish", distribuit in colaborare cu Gazeta Sporturilor, a beneficiat de un concert de lansare pe 25 Martie 2010.

In 7 aprilie 2012, Sorin Danescu, claparul si co-fondatorul trupei, paraseste trupa, la nici doua saptamani de la concertul aniversar sustinut la Opera Nationala.



---