Loading...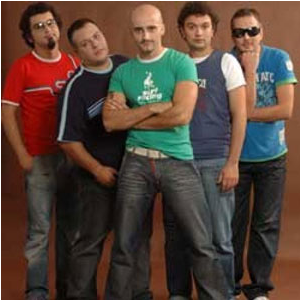 There are no performances available at the moment.
There are no Fan Reports yet written for Voltaj. Be the first to write a review and share your experience with others.
---
Artist description
1982 este infiintata Trupa Voltaj, prima piesa "Nori de Hartie", a constituit capul de afis al primului concert sustinut la Casa de Cultura "Mihai Eminescu" din Bucuresti. Componenta initiala (Horatiu Rad – bass, Nikki Dinescu – tobe, Gabi Nacu – chitara, Cristi Minculescu -voce, Adrian Ilie-chitara) nu rezista, iar octombrie 1986 este considerat un nou inceput, cu aparitia lui Cristi Ilie ca solist, Amedeo Bolohoi la chitara, Dan Mateescu – bass, Doru Istudor M.S.- tobe si Adrian Ilie – chitara, singurul ce ramane din formula anterioara. Noi schimbari se produc in '88: Gabi Constantin – chitara, Valeriu Ionescu – bass, Cristi Ilie – vocal, Doru Istudor M.S. – tobe si Cristi Luca – chitara.
1995 este lansat primul album Voltaj, "Pericol de moarte" (cu Adrian Sarbu in locul lui Luca).
1998 apare Calin Goia ca vocalist, de chitara se ocupa in continuare Gabi Constantin, la bass presteaza Vali  Ionescu iar Paul  Neacsu este bateristul formatiei.
1999 este data lansarii celui de-al doilea album "Risk Maxim 2", editat atat pe caseta cat si pe CD. Noul album include 12 piese.
2000 apare cel de-al treilea album al formatiei intitulat "Bungee". Albumul se remarca prin mega hitul "Albinutza", ce ajunge pe pozitii fruntase in topurile muzicale, la fel de bine primite fiind si restul pieselor cum ar fi: "Zodia C", "Un pas in fata".
2001 apare un nou produs intitulat "3D" sub marca Cat Music/Media Services si Bobby Stoica vine in trupa.
2002 are loc si ultima schimbare de componenta in trupa Voltaj, in locul bateristului Paul Neacsu (poreclit Pampon) vine Oliver Sterian, (fiul regretatului folkist Vali Sterian), fost tobosar la trupa Bere Gratis.
2002 primul mega turneu al formatiei intitulat "3D Tour", in care 26 dintre cele mai importante orase romanesti sunt vizitate, in fiecare dintre ele salile fiind arhipline.
2002 se lanseaza un nou album «424», iar "Scrisoare" este prima piesa extrasa pe CD-single in Romania.  De pe albumul «424» s-au lansat nu mai putin de 4 single-uri cu videoclip.
2003, Voltaj sarbatoreste 5 ani de existenta in formula actuala prin lansarea unui album «Best Of» si tot in aceeasi luna, formatia primeste Discul de Platina pentru vanzarile albumului «424».
2004 se lanseaza albumul «Povestea Oricui» printr-un spectacol cu totul deosebit, o productie ce a avut ca elemente cheie videoproiectia, efecte pirotehnice, invitat speciali (Sistem, Bebelusele de la "Cronica Carcotasilor" si Papa Junior). De pe acest album se laseaza « Eu cu mine », «Si ce?» si « Povestea Oricui. Cartea Voltaj "Povestea Oricui", impreuna cu CD-ul Integrala Voltaj, un mix al tuturor pieselor Voltaj din 1998 si pana astazi,  a fost "lansata la apa" dintr-o salupa de catre membrii formatiei, pe 12 august 2005.
2006 apare albumul "Revelator"
2008  Voltaj concerteaza pe 25 iunie la Sala Polivalenta din Bucuresti in fata a 6000 de fani. Evenimentul a marcat lansarea celul de-al optulea album din cariera Voltaj -`V8`.  Trupa avea sa anunte ca acesta este ultimul album Voltaj, grupul alegand sa lanseze exclusiv single-uri.
2010 trupa Voltaj lanseaza impreuna cu formatia Deepside Deejays un nou videoclip intitulat I Wanna Be Free. Dupa 6 luni formatia VOLTAJ pleaca in turneul "I WANNA BE FREE" care debuteaza pe 11 mai 2011 la Sala Palatului, printr-un concert eveniment si ajunge apoi in 10 orase din tara.
2012  VOLTAJ anunta lansarea celui de-al noualea album din cariera , "DA VINA PE VOLTAJ", include single-urile lansate din 2010 pana azi, "Mi-e dor de…" ; "I Wanna Be Free " ( impreuna cu Deepside Deejays ). 8 iunie 2012, VOLTAJ castiga premiul Romanian Music Awards 2012 pentru "BEST LIVE".
2012 se lanseaza videoclipul piesei "Lumea e a mea" de pe albumul "DA VINA PE VOLTAJ", aceasta fiind a doua piesa de pe acest album care beneficiaza de un videoclip dupa piesa "Da Vina Pe Voltaj".
In decembrie 2012, Adrian  Cristescu devine noul clapar al trupei, dupa decizia lui Bobby Stoica de a  parasi formatia, pentru a se dedica unor noi provocari profesionale.
---